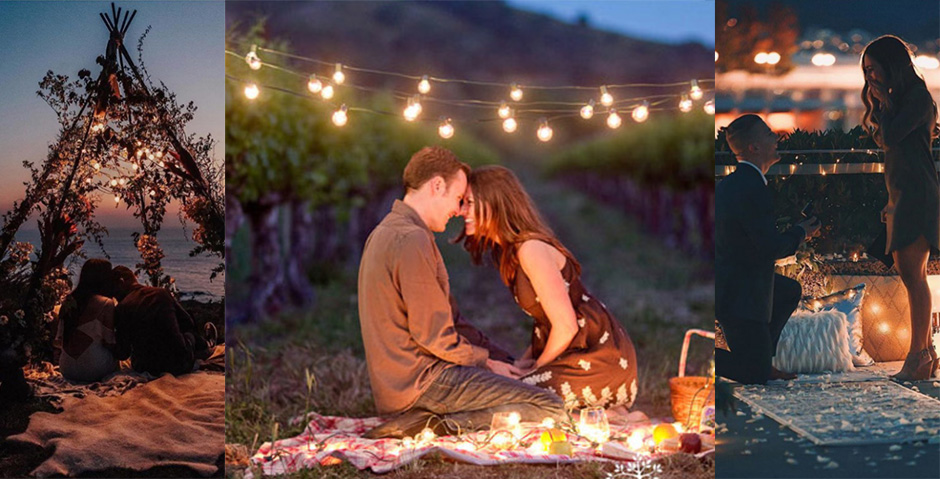 Proposals
Knowing that you have found the love of your life and that you're ready to take the next big step and start a new and exciting chapter together is incredible, but before you pop the Champagne and start inviting your wedding guests, you need to create your proposal.
Your marriage proposal is potentially one of the most exciting, nerve-inducing, memorable moments you'll ever experience, so be sure to dedicate enough time and energy to your planning to create something truly special. Your proposal will not only be treasured by you and your fiancé-to-be, but it'll become special for all of your loved ones as your story is retold and remembered for generations to come.
If you haven't asked the big question yet, then consider:
Location –a special place you visited together, a first date location, a favourite café, a holiday destination
Milestones in your relationship – your anniversary, the day you first met or had your first kiss, a birthday, Valentine's Day, Christmas or New Year's
Your partner's favourite things – the beach, the park, spa day, Champagne and strawberries, candlelight
Guests – is it private or will family and friends be there? Will it be in a public place or alone?
Atmosphere – what is the feeling that you'd like to create for this very special occasion? Once you've made your other decisions, this is style onQ's favouorite part as they specialize in creaiting once-in-a-lifetime moments that will be remembered forever! Romantic and cosy, or bright and bold, Bohemian and carefree? You get to choose and create the moment!
style onQ are honoured to have been a part of countless proposals throughout their history, each one as unique and beautiful as the couple themselves. With their years of experience and sharp expertise the team can work with you to design and coordinate your proposal providing location ideas, every possible styling option you can imagine and assisting with the step-by-step experience of the day. Whether you've got the perfect idea in mind and just need the styling and setting to bring it to life, or whether you need a completely unique design from start to finish you're sure to create an unforgettable moment in time with the style onQ team by your side.